Bardia National Park
Nepals best national park for wildlife
Bardia National Park
Bardia (Bardiya) National Park is a protected area in Nepal that was established in 1988 as Royal Bardia National Park. It covers an area of 968 square km (374 sq mi) and is the largest, most undisturbed national park in Nepal's Terai region.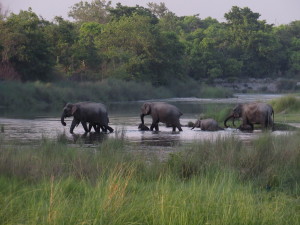 Wildlife
You get to see a lot of wildlife in the park itself, around 53 types of mammals (10 protected), 400 species of birds (6 protected), 25 types of reptiles (3 protected), and 121 types of fish.
Bardia National Park can be visited year round. However the peak season for visitors is during the hot summer season.
The most famous residents of the park are tigers, as Bardia is known as the best tiger sitting park, with a population of around 50 royal Bengal tigers.
You also get a chance to see the biggest Asian wild elephant (population ca. 70), called Rasa Gauge, as well as rhinoceros (ca. 30) and leopards (ca. 15).
Other species common in the park include five different types of deer, wild boars, and monkeys.
Last but not least, you can go rafting on the river and spot dolphins and crocodiles.
A walk in the jungle, with its rich vegetation, vivid bird-life and mammal encounters is an unforgettable experience.
Bardia National Park Wildlife Photographs
From jungle treks with Bardia Kingfisher Resort
Bardia National Park Wildlife Video
Live video from jungle treks with Bardia Kingfisher Resort
Wildlife numbers
While the number wild animals in Bardia may seem low they are increasing. Bardia's remote location also means there's a much higher likelihood of spotting animals in the wild here than anywhere else in Nepal!
Total number of mammal species in Bardia
Total number of bird species in Bardia
Total number of fauna species